Like many others can attest to, COVID detroyed some of our best-laid plans over the past year, including travel plans. My family has been lucky to go to Mexico a few times over the years and I have very fond memories of the food and people there. I can say confidently that there are few things on this planet that can top a plate of al pastor tacos fresh off of a charcoal trompo.
So, when our trip was cancelled and I was jonesing for some of that soul-nourishing pork and pineapple, I set out to do my best impersonation at home.
With that I present Al(berta) Pastor Tacos!
First, there are a couple of things that make the authentic al pastor tacos what they are - in my mind anyway. These two include:
the flavour: a diverse marinade that gives al pastor its unique flavour profile (not to mention an incredible colour).
the cooking method: layers of thin marinated pork shoulder stacked and shaped into sort of a bee-hive and turned on a vertical rotisserie that is cooked by shelves of charcoal. This cooking device is called a trompo and while I did see electric versions of this, the live-fire nerd in me couldn't get enough of the charcoal versions we came across. As the meat was cooked and slightly charred, it was shaved off to build the tacos, and the next layer of pork was free to take on a kiss of charcoal.
The flavour is something we can replicate fairly well, as long as you have access to good ingredients. I am lucky enough to have a little Latin American bakery where I live (what's up Queen Latina!) that has a small but completely sufficient selection of grocery items. Your mileage may vary where you live.
The cooking method requires some improvisation, though. The sheer size of a restaurant-style trompo isn't practical for a family or small get-together. There are after-market attachments that are meant to replicate the trompo on a smaller scale. Cool as they are, they don't really replicate the authentic cooking method I have in my mind considering where the heat source is coming from. It lacks that direct charcoal magic.
I've also discovered plans online to create a DIY trompo out of a 55-gallon drum (which would look great next to the Philly Special!) but I haven't had the time, garage space or, frankly, the rationale to make it.
I've also done a pulled pork method where I've smoked a full pork butt while using al pastor marinade/flavours instead of classic BBQ flavours. While enjoyable, you can't really get that same al pastor flavour throughout the meat - you get a great bark but the interior just doesn't measure up.
So, my inauthentic method is to take a boneless pork butt sliced thick (or pre-sliced pork steaks) and reverse sear them. You get the benefit of the slow-cooked process that gets the collagen broken down, but that high heat sear at the end gives you that sweet maillard goodness.
Obviously, the other thing we can't recreate is the ambience (which really can impact how good something tastes). In one scenario, you are sitting in a vibrantly-decorated Mexican restaurant drinking Modelo Negro in paradise weather conditions fumbling your way through the most basic of Spanish.
In the other, you are grilling outside in a toque drinking cheap prairie beer with a specially-designed glove (and drinking quickly enough that it doesn't turn to slush) rotating through the same 4 Spanish songs you remembered to download from your last trip.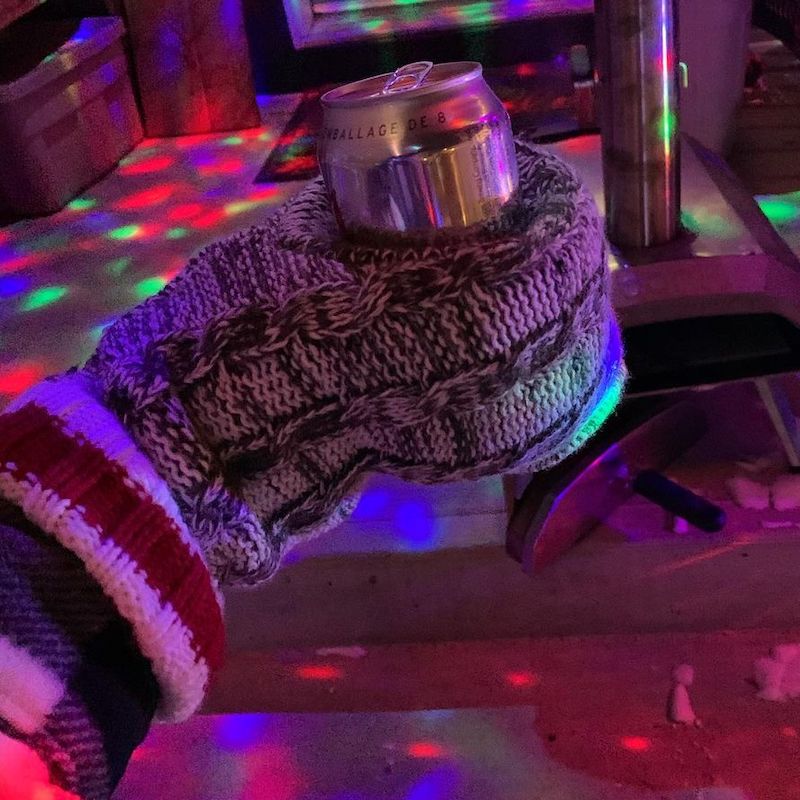 In any case, despite the lack of ambience, I have to say that these Al(berta) Pastor tacos are a damn fine replica. A note on the ingredient list:
Some recipes call for very specific amounts and measurements. Some don't. This is one that really doesn't require specificity. I'll do my best to give a guide but it really is something that lends itself to eye-balling and 'making it your own'. Besides, that way you can say you created it and collect all of the glory. (Speaking of which, props to Kenji Lopez-Alt for some flavour and technique inspiration).
Lastly, I prepared my tacos fairly classically (pork, pineapple, diced onions, cotija cheese, onions, salsa, and crema on a small tortilla) but I'm not one to get too precious about toppings. After all, you are the Waka Flocka Flame of your Al Pastor Taco game (shout out to Chef John).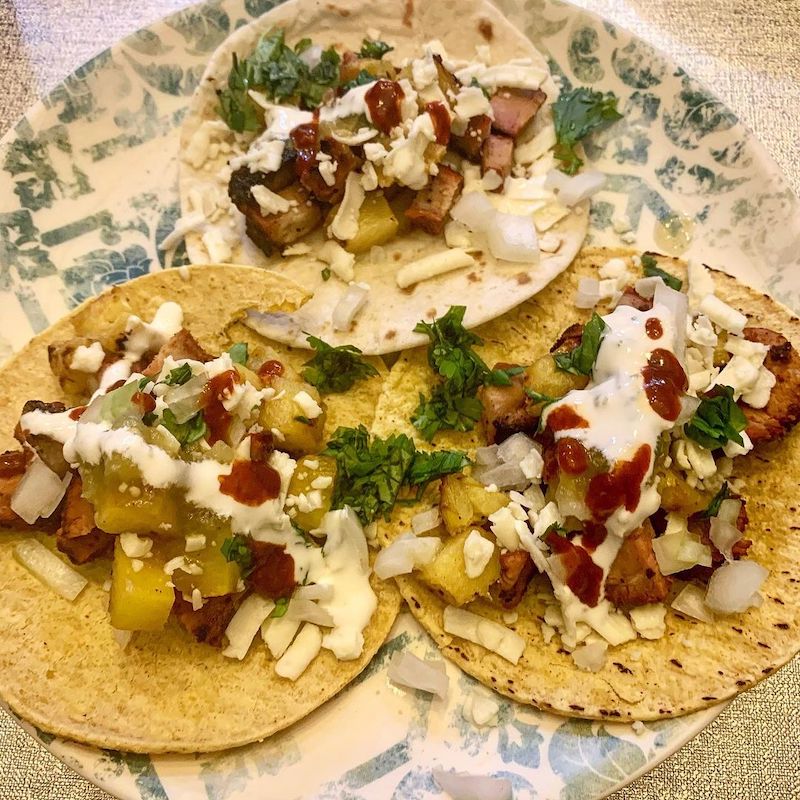 On to the recipe!
RECIPE
4 lbs (roughly) boneless pork butt, sliced into 3/4"-1" thick discs (or you can often find pre-sliced pork steaks).
1 pineapple - cored and sliced into 1/2" rings
Small tortillas (corn or flour or both)
Marinade
3/4 Achiote Paste
2 dried guajillo peppers, de-seeded
2 dried ancho peppers, de-seeded
1 chile packed in adobo sauce, plus a tsp or so of sauce from can
3 cloves garlic
1 tbsp each of oregano, paprika, cumin, pepper, and sugar
2 tbsp salt
1/4 cup apple cider vinegar
1/4 cup pineapple juice
1/4 cup of chicken (or veggie or whatever) stock (enough to get marinade to a nice consistency)
Toppings
1 white onion, finely diced
1 cup chopped cilantro
Cotija cheese
Mexican Crema
Fresh lime juice
Salsa of your choice (verde, raja, or pico de gallo)
Sides
Tortilla chips with homemade pico de gallo and guacamole. Both are super simple to make fresh. Consult the internet. Also, I put tomatoes in my guac, don't @ me.
Beer / Margueritas as required
Directions:
Make your marinade.

Cut the stems off of your guajillo and ancho peppers and shake out the seeds and place the de-seeded peppers in a bowl. Then pour over boiling water and let sit for a few minutes to soften.
Add all of the marinade ingredients (except the stock) into a blender, including the softened peppers. The achiote paste that I use comes in these little, flavourful soft bricks with two bricks to a pack (this stuff is great as a rub on roasted chicken as well, by the way). I'd usually use about 3/4 of a brick for a batch this size.
Blend everything until well mixed. And then add enough stock to get to a good consistency. Basically, you want it sort of like a watered-down smoothie - easily pourable but you still want it to stick to the meat a little bit.

Place sliced pork into a large freezer bag or deep dish and pour over marinate. Mix together and ensure all the pork is covered freezer bag or deep dish and place in fridge to marinate for several hours up to overnight.

Preheat grill and create a two-zone cooking setup. Ideally, this is on a charcoal grill (I used a weber kettle). A smoker or egg works great as well, as long as you have the ability to sear over a flame at the end of it all.

Take your pork out of the fridge and transfer the slices onto a board or sheet pan. Optional tip: do not discard the marinade! I found this can be re-purposed into a delicious topping. See optional step below.

Time and temperature is all a little bit fuzzy here. It will all depend on the thickness of your cuts and the temperature of your grill or smoker. I didn't monitor grill temperature but I lit a chimney of charcoal, split it between two charcoal baskets, pushed to one side, and left the top and bottom dampers ~1/2 open. I'd venture to guess it was in the 275 range. I had a chunk of peach wood in for smoke flavour, and added another small piece about an hour into the cook.

Put pork on the cool side of your two-zone setup, cover, and walk away.

While the pork is cooking prepare all your other toppings, including slicing your pineapple.

Fun optional step! Place all of the remaining marinade into a saucepan and heat until boiling. First, we want to make it food-safe so, let it boil for at least 5 minutes - more if you're paranoid. Next we'll gradually add some liquid to get it to the texture we want, and some flavours to get it to the taste we want. This is entirely up to you. I added a bit of apple cider vinegar and pineapple juice for acidity/sweetness (maybe a 1/4 cup each), and then about a tablespoon of the canned adobo sauce for a kick of heat. It has a fantastic bright colour so it really does make a nice topping for the tacos (or a light toss for the pork if it needs a bit of re-hydrating). Plus, you're a hero for re-purposing ingredients.

The pork cooked on the cool-side of my two-zone setup for a little under 90 minutes. (Again, your mileage may vary).

I was a couple of beer in at this point so I was only cooking until 'it felt right' but let's call it an internal temperature of ~175 or so. Now that your pork has come up to temperature, we want to finish over direct heat. Flip a few times until you get a nice amount of char. It was only a few minutes per side, for me.

Take cooked pork and wrap tightly in foil and set aside in a faux camber or on the 'warming' setting in your oven while you finish up on the grill and your household remarks how amazing it smells. Say 'thanks' in a way that is equal parts enthusiastic, grateful, and humble. Play it cool, guy. You're a grill master.

Grill your pineapple slices. I'll usually brush them with a bit of butter or oil before going on the direct part of the grill but, again, we're just looking for some char on the pineapple so a couple of minutes per side on a hot grill is usually all you need.

Next, optionally place the tortillas on the grill for a quick pre-heat as well. Flour tortillas will give you a satisfying bubble in the middle, for what it's worth. 15-30 seconds per side and then into a coverable container to stay warm.

Lastly, we're going to chop our pork and pineapple up. You should be left with a pile of tender pork that has all sorts of charred bark mixed into it.

That's it! It's taco time, baby. Take your tortillas, fill with a scoop of pork and top with pineapple, onion, cilantro, cotija cheese, and a drizzle of crema (and optionally, a few dashes of your marinade sauce).